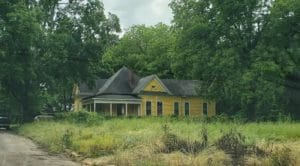 Some of you are aware that we also have real estate investments in Birmingham, AL. We love Mammoth and it is a such a joy to invest, live and play there, but we also have taken advantage of the low cost of entry and high returns in the Birmingham market. Shelby grew up there and her family still lives there, so it's also a great excuse to visit family regularly! We currently own two cash-flowing single family homes there and are hoping to close on a third very soon!
This home is definitely going to be very different than our first two units, which were turn-key properties that we purchased with tenants already in them. This new residence is for sale one block away from a house we currently own in a transitional area of town that I really like. The property was listed on the MLS for $40,000. I drove by and saw this adorable yellow house with a white picket fence and a large porch and fell in love. I called my agent and asked how much the tenants were paying. When she called me back, she said the property was vacant, there was no tenant. Funny thing is, there was DEFINITELY someone living there. When I drove by, there was a barbecue grill on the front porch, a bag of trash out front, and kids toys in the yard. The agent offered to go over there to double check, so I sent my dad with her (I had already gone back to Mammoth). When they arrived, they had found that there were actually people living there, they had changed the locks and installed a security camera. There was also a brand new HVAC system and vent installed.
My initial instinct was to immediately walk away and forget about this property. Wes, however, mentioned that maybe we should make an as-is offer on the property for significantly lower than asking price and take care of removing the squatters ourselves. I did a little bit of quick googling about squatter's rights in Alabama and realized that could be a good idea. We ended up making an offer of $16,500 with no contingencies, which was accepted!