Rebuilding and Reinforcing
Week 2 and 3 have still been mostly about getting demo done! We've ran into some issues from rot in the foundation and load bearing beams of the house that had to be dealt with immediately.
Highlights:
-Refinished the tub and tile in the hall bath and installed a working toilet! (Hooray!)
-Painted all three upper floor bedrooms
-Removed sub floor of laundry room and master bathroom because of rot
– Jacked up load bearing beams to replace and reinforce. (Did you know you can use a beam and a car jack to hold up a house? Well, now you do)
-COMPLETELY cleared out the entire bottom floor! We found an AMAZING crew that did some serious work and knocked out the task in just a couple days!
-Removed walls downstairs to open up the space
-Cleared out back patio area

Notable Mishaps:
-The first day it rained we realized why we had such a terrible mold problem downstairs: a veritable waterfall was flowing from the back side of the house into the basement.
-We found an entire family of rats living inside a wall, even though we thought we had gotten rid of them all. Tiny little pink rat babies!
-It's so hot. We're melting. We've consumed at least 3 ice pops per person per day this week. Yum.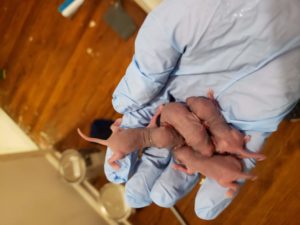 Goals for next week:
-The electrical downstairs is an absolute nightmare. We need to hire an electrician to replace the panel down there, and potentially to rewire everything. Although this is something Wes is able to do himself, we're considering hiring it out just because it will be SO time consuming and tedious!
-Getting plumbing replaced so we can begin work on the bathrooms upstairs.
-Install new windows.
-Install kitchen flooring so we can start in stalling cabinets!